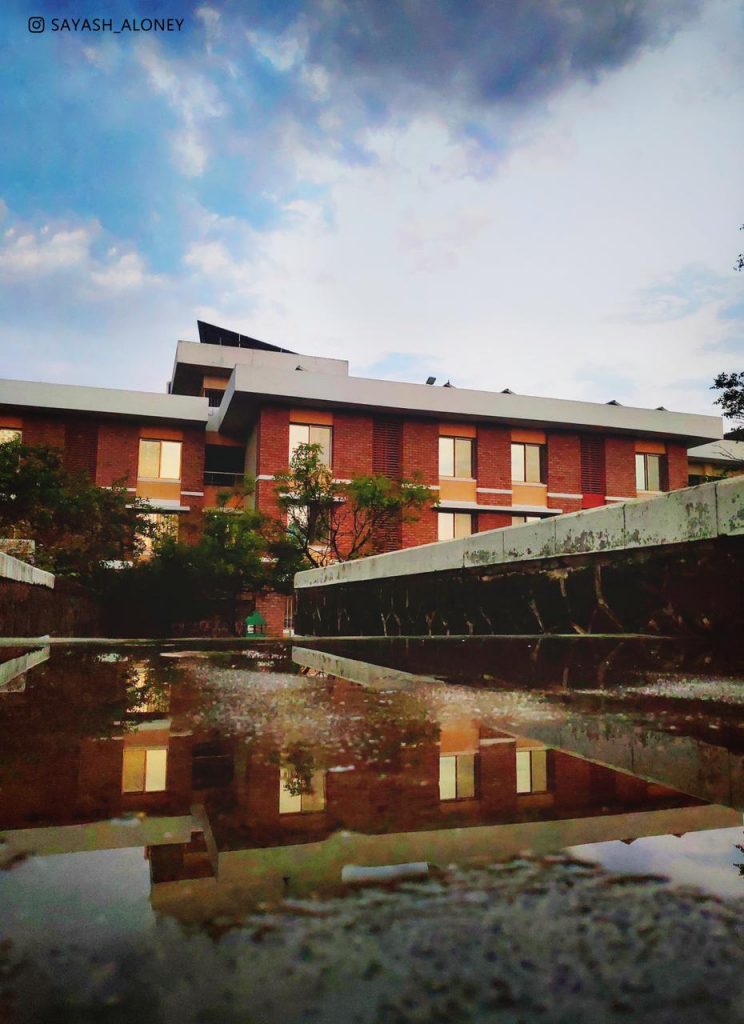 An exterior of confidence, bubbling enthusiasm inside and the resolve to reach the summit, were profoundly emanating, as I entered the Symbiosis campus. But down under, there was the fear of facing a new environment, and the core Gujarati in me was ready to be a rebel and conduct a pseudo anatomic mutiny against my own self. There it was, THE CAMPUS, lush green grass and a fresh breeze were there to greet all of us. The transition was instantaneous and the rebel became the compatriot. Those 2 years were and will always be the cherished moments of my existence.

The most iconic and one of the most beautiful areas of the campus is the Helipad and the garden. It is at that very place where I gazed into vivid hues of nothingness and started my journey of being versatile and outgoing, which is quite opposite of what I had been before I came to this place. The serenity helps in the peace of mind body and soul.

Coming to the home, be it called room, apartment, shared room, but for me, it became my Home, yet people call it Hostel, roommates became friends to best buds to brothers. We shared it all, laughed at things, cried at miseries, jousted at songs and films but atop comes the one thing that each one of us experienced, that was LIFE. Nothing short of it.

Being a tall, broad-framed individual, I have always been into sports, and sports is what I loved here too. Running around the block, at the 11th hour, no not for lectures but for the little time that's left during dusk, so that a whiff of sport goes in me to keep me sane. Basketball court, post dusk, became one of the most prolific chatterbox areas. From chit-chats to weird giggles, from impromptu skits to our very own version of Indian Idol, we've seen it all happen here.

And then is our night hub, The Mid Night Cafe (MNC), and our very own Symbieats, that came to the rescue whenever our mess/canteen had meals that were hard to swallow, "unsey bada anna-daata toh koi bhi nahi ho sakta".
To conclude, this journey began as a roller-coaster,
With insanity galore, it grilled like a toaster,
Became our solace, like for a pistol to its holster,
But fled away too quickly, like an all-American Roadster.
In the end, snippets are all that we can foster,
Good, Bad, Ugly, and more, this was a Picture-Perfect Poster.
Signing off with a plethora of feelings inside and loads of exuberance, experience and excellence I step into the world again
Hardik Gadhia
SSBF (Always)